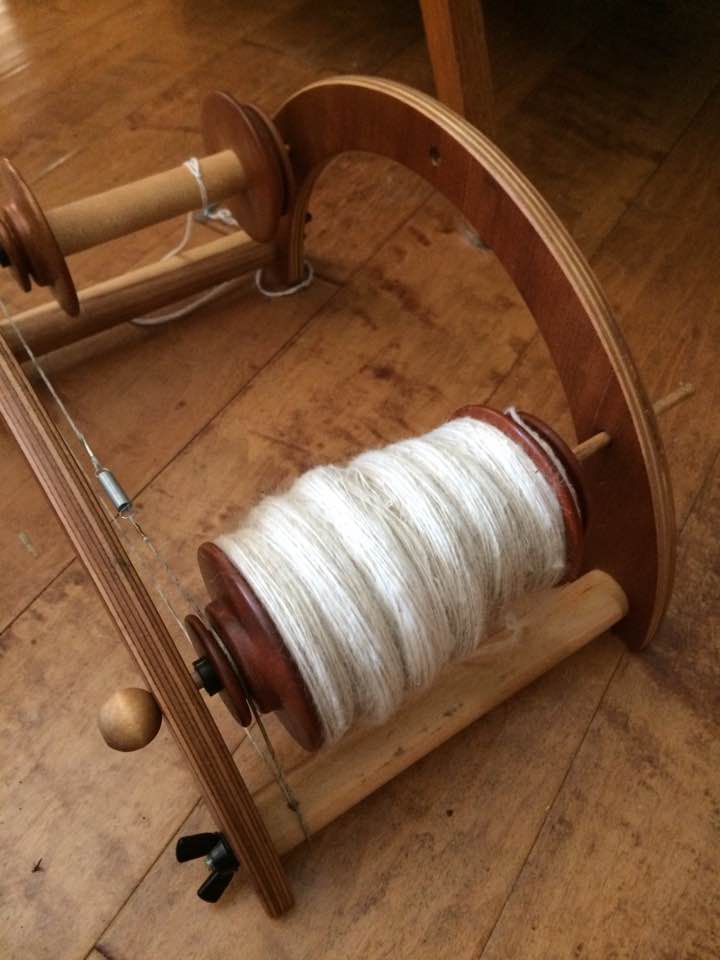 Spin
I began spinning on an Ashford Traditional wheel. The fleeces I used to get at the Victorian Spinners' and Weavers' Guild were pretty clean; I would tease open a lock by hand and spin in the grease. I loved the lanolin on my hands and got most of it out of the wool when I washed the spun yarn prior to knitting. I've since learned how to scour a fleece before dyeing or spinning. With the use of carders, combs, flicker and sundry animal grooming tools, I prepare the fleece before spinning.
Usually I do prepare a couple of ounces then spin. Whilst I can sit for hours and spin, my body tells me that I shouldn't. So by mixing up the activities in the process I also mix up muscle group use. This way I can get about 5 to 8 ounces spun in a day. That's when spinning is my only fibre task for the day.
Since living in Colorado USA, I've discovered Schacht spinning and weaving equipment. They are made locally, which I like, and the Cherry Matchless is a dream to use. I keep it in double drive and then I also use a Schacht Ladybug which is set in scotch tension mode. This is the one I loan out to students/friends who are wanting to try before they buy. Which is a good idea, because there are definitely different wheels to suit different spinners.